This BBS was built with the spirit of retro-gaming in mind…
…with special emphasis placed on classic door games, such as…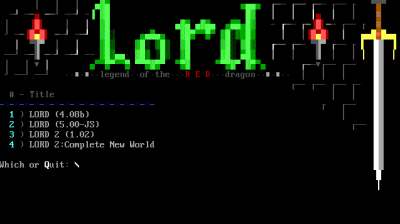 LORD…
Usurper (both new and classic modes)…
TradeWars, Yankee Trader, and other TW-variants…
Multiple games of Operation Overkill, arranged by difficulty…
plus a curated selection of many others.  There's a category to offer every type of gamer.
Lately I enjoy dabbling with making my own mods, for example…
And what board would be complete without random "rumors" at the bottom of the main menu!
Also connected to a few message networks, like DOVE-Net, fsxNet, and of course the historic FidoNet!
ConstructiveChaos awaits.